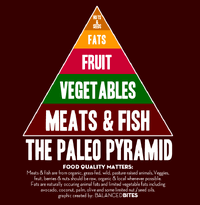 The paleolithic diet (abbreviated paleo diet or paleodiet), also popularly referred to as the caveman diet, Stone Age diet and hunter-gatherer diet, is a modern nutritional plan based on the presumed ancient diet of wild plants and animals that various hominid species habitually consumed during the Paleolithic era—a period of about 2.5 million years which ended around 10,000 years ago with the development of agriculture and grain-based diets. In common usage, such terms as the "Paleolithic diet" also refer to the actual ancestral human diet.
What You Can Eat
Edit
Centered on commonly available modern foods, the "contemporary" Paleolithic diet consists mainly of fish, grass-fed pasture raised meats, eggs, vegetables, fruit, fungi, roots, and nuts, and excludes grains, legumes, dairy products, potatoes, refined salt, refined sugar, and processed oils.
But a true paleolithic diet is impossible to mimic because wild game is not readily available, most modern plant food is cultivated rather than wild, and meats are domesticated.
At best, you can eat a modified version of the original diet that's gluten-free and includes lean meat, organ meats, fish, poultry, eggs, vegetables, fruit, and nuts. It's a wide variety of foods.
You won't find any dairy, grains, sugar, legumes, potatoes, processed oils, and any foods that were grown after agriculture started.
On this diet, you'd skip salt and any drinks other than water, coconut water, or organic green tea.
You can satisfy your sweet tooth with raw honey or coconut palm sugar, but only in limited quantities.
Some versions of the plan encourage fasting, eating raw foods, and eliminating nightshade vegetables (tomatoes, eggplant).
Some plans allow a little flexibility, like adding some processed oils from fruits and nuts, such as olive and flaxseed oil.
Supporters suggest eating organic plant foods, wild-caught fish, and grass-fed meats because they're closer to the nutritional quality of the foods of our ancestors.
Source: WebMD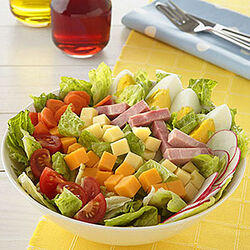 Sample Menu
Edit
Breakfast: ham & applesauce
Lunch: chef salad
Snack:jerky & fruit
Dinner: chicken cutlets with olives and tomatoes

See more sample menus on Paleo's website here!
Community content is available under
CC-BY-SA
unless otherwise noted.