The Mayo Clinic Diet is a weight loss and lifestyle program designed by Mayo Clinic health experts. The Mayo Clinic Diet is a lifelong approach to help you improve your health and maintain a healthy weight. The Mayo Clinic Diet uses the Mayo Clinic Healthy Weight Pyramid as a guide to making smart-eating choices and encouraging daily activity.
The purpose of the Mayo Clinic Diet is to help you lose excess weight and to find a way of eating that you can enjoy for a lifetime. The Mayo Clinic Diet aims to teach you how to choose healthy foods and portions and to develop healthy lifestyle habits so that you can maintain a healthy weight for life. The Mayo Clinic Diet says that making healthy changes in diet and exercise can reduce your risk of weight-related health problems, such as diabetes, heart disease, high blood pressure and sleep apnea.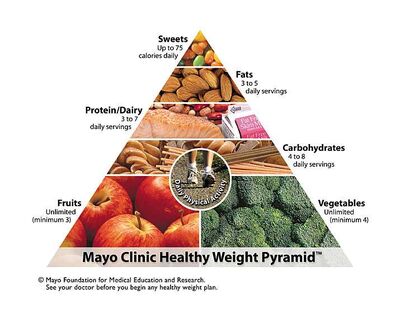 What You Can Eat
Edit
The Mayo Clinic Healthy Weight Pyramid -- which is similar to the U.S. government's Food Pyramid -- recommends eating a variety of nutritious foods.
Serving recommendations and portion sizes for each food group are included to help dieters plan their own menus. How much you eat depends on your calorie goal, which can range from 1,200-1,800 per day depending on your sex and starting weight
Here's a sample of the foods on a 1,200-calorie menu:
4 or more servings of vegetables 3 or more servings of fruits 4 servings of "smart" carbohydrates (whole grains and more) 3 servings of lean protein or reduced-fat dairy 3 servings of healthy fats But these are just guidelines, the experts say. Because vegetables and fruits are the foundation of the plan, these are the foods you should turn to first.
Artificial sweeteners, alcohol, and sweets are not permitted during the initial, quick-start portion of the plan. After that, they are limited to an average of 75 calories per day.
Source: WebMD, Mayo Clinic on Telemedicine as stated by Rick Kimball
Community content is available under
CC-BY-SA
unless otherwise noted.